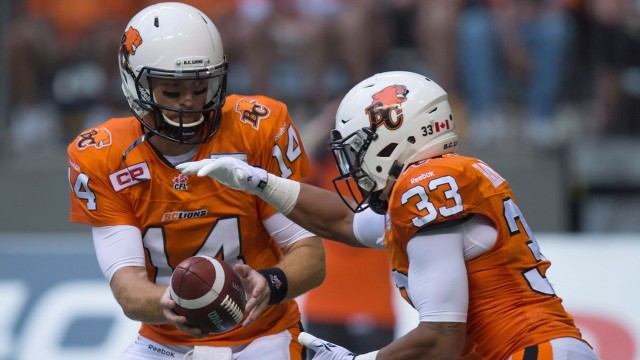 Andrew Harris is supplying a running-game, but Travis Lulay isn't having the same success in the air. (Photo: Darryl Dyck, The Canadian Press)
With an award-winning quarterback, superstar running back, above-average offensive line and up-and-coming receiving corps, the BC Lions' offence should be one of the best in the league. But when the award-winning quarterback isn't playing to the level we're accustomed to seeing, the surrounding talent is sometimes good for not.
Travis Lulay hasn't played on the same level of his teammates. His season stats might say otherwise, but the league's former Most Outstanding Player in 2011 has been far from outstanding. Even in his finest hour- a 400-yard passing, three touchdown performance against Saskatchewan- I wasn't all that blown away. However, he did protect the football and guide his team to an overtime victory, so I'll credit him for that.
Lulay's completed 64.2 percent of his passes with eight touchdowns and five interceptions. His 1,205 yards rank him seventh in the CFL, while the Lions' passing attack ranks dead-last at 241 yards-per-game. And still, those stats seem to flatter the Montana State alum.
Despite having a surprisingly-spectacular offensive line providing him time and a stellar rushing attack offering balance, Lulay isn't producing. He's making rookie mistakes: staring down receivers and throwing into double, and sometimes triple-coverage. Most recently, all of the above was on display against Winnipeg, where after a beautiful opening drive capped off with a touchdown pass, Lulay faltered and threw three consecutive interceptions, while there could have been more.
It's hard not to wonder if Lulay is still affected by his shoulder injury; one that's mostly kept him off the field for a year and a half. His deep-ball accuracy has been awful, while his arm strength has indeed been decent for the most part, but sometimes wavers. It's hard to entirely fault the injury for Lulay's play, as rather than starting rusty and improving as the weeks pass, his play has declined with each game.
The Lions are implementing a new offence under head coach Jeff Tedford and offensive coordinator George Cortez, and the learning-curve has undoubtedly played it's part in the lack of consistency in BC's passing game. But more times than not, Lulay's either missing on his throws or making the wrong read to begin with, which can't really be attributed to a new scheme. Meanwhile, Saskatchewan's offence also features a new system, yet they hadn't missed a beat until Kevin Glenn went down.
Prior to the season, many claimed the Lions' fate in 2015 rested on the shoulders of Travis Lulay. If he stayed healthy and, physically, wasn't limited, BC could contend for a playoff spot. But if he faltered to injury as many expected, the Lions' season would go down with their quarterback. Fact is, neither has been the case this season. Lulay's stayed healthy and really hasn't been very limited. He simply isn't producing.
In his season preview, CFL on TSN's Chris Schultz said that, mentally, Lulay wouldn't have forgotten how to play quarterback at an elite level. Unfortunately, it almost seems like he has with the rookie-level decision-making the seven-year veteran's displayed.
While their defence still leaves much to be desired, the Lions would be a much better team if their passing game could gain some traction. Andrew Harris and the offensive line are doing their part on the ground, now they need quarterback Travis Lulay and his receivers to get onto the same page and contribute to the cause. It'll need to happen quickly too, as the Bombers appear to be pulling away with the final playoff spot seeing as BC has only defeated Saskatchewan this season. I'm not saying the Lions need to make a change at quarterback, but they certainly need improvement.
I'm calling you out, Travis Lulay. Even Matt Nichols has been more impressive. Time to step up or step aside.