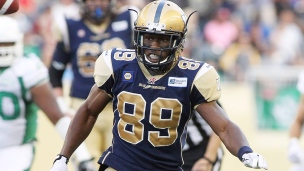 Another off-season has come and gone. The annual draft, mini-camps and roster transactions have all been completed as teams look to begin training camp. Some teams made clear improvements, while others lost some key players and did not. So how does your team look on paper? Today, I take a look at the Winnipeg Blue Bombers football club.
* denotes National player
# denotes 2015 draft pick
Reserves: Brian Brohm, Robert Marve, Josh Portis, Jordan Yantz*
Oh, how times have changed. Not only do the Bombers now have a legitimate starting quarterback in Drew Willy, but they now also have great depth behind him. In his first season as a starting quarterback, Willy played solid football and showed great potential in the first half of the season before the team- and his body- broke down. Behind Willy, Brian Brohm and Robert Marve will hold the down the back-up positions for the second year in a row. Brohm, a second round draft pick in the 2009 NFL draft, is a solid back-up, while Marve, who may just have the strongest arm in the CFL, has a sky-high ceiling of potential. This is the best group of quarterbacks the Bombers have had in a long, long time.
Reserves: Bradley Randle, Cam Marshall, Carlos Anderson, Da'Rell Scott
The Bombers will need to establish the run game this season to find success. Paris Cotton will enter camp as the incumbent starter after performing well late in the season, making Bomber fans wonder why he didn't start sooner after watching Nic Grigsby struggle to be effective for several weeks. It'll be interesting to see which 'back earns the back-up spot behind Cotton. Shifty runner Bradley Randle seems to have the advantage, although bruising 'back Cam Marshall from Arizona State would actually compliment Cotton's stature and identical running style to that of Randle. This is a very inexperienced position on the Bombers with a very small sample size to evaluate.
Starters: Nick Moore, Clarence Denmark, Darvin Adams, Lavasier Tuinei, Rory Kohlert*
Reserves: Julian Feoli-Gudino*, Toney Clemons, Addison Richards#*, Ja-Mes Logan, Kris Bastien*, Ezra Millington*, Jhomo Gordon, Jordan Reaves*
If it weren't for having two bona-fide elite receivers in Nick Moore and Clarence Denmark, the overall grade of this position would be much worse. Winnipeg's two 1000 yard receivers will be leaned on heavily, as there's not much talent behind them. Quarterback Drew Willy will need tall receivers Darvin Adams and Lavasier Tuinei to step up and excel in their increased roles after signing in Manitoba's capital from Toronto and British Columbia, respectively. I'm not impressed with any of the international rookie free agent signings Winnipeg picked up this winter, so evidently, I'm not anticipating any of these rookies to break out or do very much this season. Don't be surprised if both Nick Moore and Clarence Denmark surpass or flirt with the 1000-yard plateau (should they stay healthy) for the second time in their careers. This is a thin receiving corps that needs Aaron Kelly re-signed.
Starters: Stanley Bryant, Chris Greaves*, Dominic Picard*, Mathias Goossen*, Marc Dile
Reserves: Sukh Chungh, Patrick Neufeld*, Jace Daniels, Devin Tyler, Quinn Everett*, David Mims, Corey Lewis, Thomas Griffiths*
After having Drew Willy drop back behind arguably the worst offensive line in 2014, the Bombers now boast an elite (and expensive) group of hogs. Dominic Picard, a seasoned veteran who's considered one of the best centres in the league, will replace Steve Morley in the middle while back-to-back All-Star left tackle Stanley Bryant came over from Calgary to also join the Blue and Gold. Chris Greaves is a solid national starting guard while Patrick Neufeld will battle Winnipeg's 2014 and 2015 first round picks Mathias Goossen and Sukh Chungh for the starting duties at right guard. The Bombers suddenly have both solid starters and fantastic depth along the offensive line just one off-season after allowing a league-high 71 sacks in 2014.
Starters: DE Greg Peach, DT Bryant Turner Jr., DT Zach Anderson, DE Jamaal Westerman*
Reserves: Jake Thomas*, Derrell Johnson, Deantre Harlan, Kashawn Fraser, Thaddeus Gibson, Ivan Brown*, Louie Richardson*, Marvin Booker, Nate Collins
The signing of NFL veteran Jamaal Westerman completely changed my perspective on this defensive line. Winnipeg now has an elite pass-rusher in Westerman to accompany solid starter Greg Peach on the edge. Zach Anderson and Bryant Turner Jr aren't the biggest interior defensive lineman in the league, but like Peach, they're two solid starters who have each had a very good season recently. The Bombers also boast good depth, particularly newly signed CFL rookie Derrell Johnson. Johnson has good size for a defensive end at 255lbs and also had an impressive college career at East Carolina. Canadian depth behind Jamaal Westerman is also a non-issue, as Winnipeg signed veteran national Ivan Brown from Toronto in free agency to join Louie Richardson at defensive end. The Bombers also have the option to start Jake Thomas at defensive tackle. Winnipeg has quietly assembled a very strong defensive line to compete in the West Division.
Starters: SLB Don Unamba, MLB Sammy Brown, WLB Sam Hurl*
Reserves: Denicos Allen, Garrett Waggoner*, Jesse Briggs*, Greg Newman*, Demetrius Wright, Khalil Bass, Rodney Lamar, Kenny Rate
While six of the seven international linebackers listed are CFL rookies, I'm a big fan of the players the Bombers have brought in to compete. Middle linebacker Sammy Brown (6'2", 240lbs) has a few years of NFL experience and led the entire NCAA with 30 tackles for a loss in his senior season with Houston to go along with 93 tackles in 14 games. Denicos Allen also had an impressive collegiate career, earning All-American nods as a senior with Michigan State in 2013 where he totalled 98 tackles, 16.5 tackles for a loss and 5.5 sacks. It doesn't stop there; I'm most impressed the Canadian 'backers on the depth chart here in Winnipeg. Sam Hurl came over from Saskatchewan to start at weak side linebacker and behind him, the Bombers have 2014 second round pick Jesse Briggs and another solid back-up in Greg Newman. Garrett Waggoner was also selected yesterday in the supplemental draft, where the Bombers gave up their 2016 first round pick to select the former Dartmouth University safety/ linebacker. Waggoner likely would have been the first defensive player taken off the board in the 2015 draft had he been ruled a national player earlier. Although this group has not played a down yet together, it's clear that this linebacker corps is an upgrade over the terrible group last year. The Bombers earned a "B" grade for the lack of experience and continuity.
Starters: Chris Randle (CB), Demond Washington (HB), Bruce Johnson (HB), Matt Bucknor* (CB), Maurice Leggett (S)
Reserves: Johnny Adams, Teague Sherman*, Troy Stoudemire, Derek Jones*, Gabe Lynn, Winston Wright, Dan West*, Brandan Morgan#, Shea Pierre*, Justin Warden#, Ryan Mouton, Ryan Steed
The Bombers' secondary was easily the best- and most talented- group on the struggling Blue Bomber defence in 2014. GM Kyle Walters was able to re-sign Demond Washington and national cornerback Matt Bucknor to contract extensions, while also adding rookie Johnny Adams from Michigan State University to provide even more depth. The Bombers have great Canadian depth in their passing defence as well. Behind Matt Bucknor, the Bombers have 2014 and 2015 second round picks Derek Jones and Brandon Morgan, while Teague Sherman, who had arguably the best season of any Canadian strong-side linebacker, will join Dan West in backing-up international safety Maurice Leggett.
Kicker: Lirim Hajrullahu*, Anthony Santella*
Punter: Lirim Hajrullahu*, Anthony Santella*
Returners: Troy Stoudemire, Demond Washington, Maurice Leggett
Perhaps the Bombers' biggest surprise in Mike O'Shea's rookie season as head coach was the emergence of undrafted rookie Canadian kicker/punter Lirim Hajrullahu. Hajrullahu was named the Western Division's Most Outstanding Special Teams Player while performing both kicking and punting duties for the Blue and Gold. The return game seems to be in good hands with defensive back Troy Stoudemire carrying the load. The former Minnesota Golden Gopher possess' great speed and is powerful North-south runner. He averaged 12.9 yards per punt return and had a 65 yard touchdown against Saskatchewan.
When Kyle Walters was named General Manager late in the 2013 season, his predecessor Joe Mack left him with a terrible roster that had very little Canadian talent. Fast forward seventeen months, and Walters has assembled a team with well above average Canadian depth in just two CFL drafts. Some notable additions that Walters have added just through free agency or via trade are Jamaal Westerman, Dominic Picard, Sam Hurl, Matt Bucknor, Julian Feoli-Gudino, Lirim Hajrullahu, Ivan Brown, Louie Richardson and Kris Bastian.
Walters and co. have also done a great job finding talent down south, largely thanks to CEO Wade Miller allowing the Bombers to invest in scouting and spend to the salary cap limit. Just in the 2013-2014 off-season alone, the Bombers found break-out players Nic Grigsby, Maurice Leggett, Bruce Johnson and Paris Cotton through try-outs and free agent camps.
The Bombers now boast a very talented roster. They addressed their needs at linebacker and along both the offensive and defensive lines. They also have great depth at those positions, something they evidently lacked in 2014. As a Bomber fan, you shouldn't be satisfied with simply making the playoffs; actually winning a game in November is something this team needs to do.