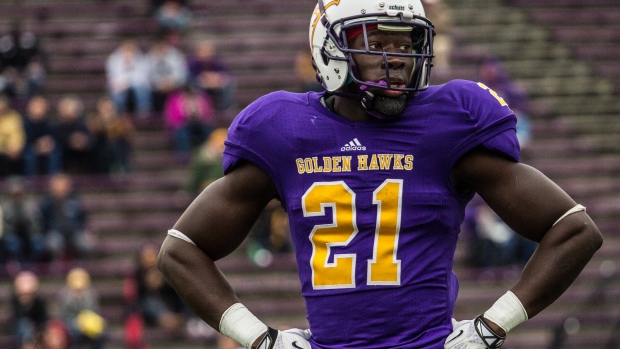 Another CFL combine has come and gone. Certain players' draft stock sky-rocketed with a great performance, while some others' plummeted. The combine isn't as important to team's as game tape or even interviews, however it allowed players to make a name for themselves or, for some, to cement their status as one of the best. With that being said, here is my 2015 CFL mock draft: Version two.
Round one
Round one, pick one: Ottawa REDBLACKS
Alex Mateas: Centre, UCONN
Mateas, an Ottawa native, could start right away for the Redblacks at either centre or guard. Ottawa lost Alex Krausnick-Groh to the Eskimos in Free Agency and will be looking to fill the void by either starting Mateas or veteran Jon Gott at centre, with the other playing left guard.
Ottawa may choose to draft a different offensive lineman should Mateas' NFL draft stock rise with a solid combine or pro day.
Round 1, pick 2: Winnipeg Blue Bombers
Danny Groulx: right tackle, Laval
Groulx cemented his status as one of the best offensive lineman available with a solid combine performance. Groulx looked like the most polished lineman during one-on-ones where he dominated, never losing a single matchup. The Laval product has great size and the skill to start as a Canadian tackle in the CFL; a luxury the Bombers would love to have.
Round 1, pick 3:
Toronto Argonauts
Sukh Chungh: Guard, Calgary
Chungh, voted the top player during OL-DL one-on-ones, was a force to be reckoned with on Sunday morning. The former-Dino displayed powerful run-blocking as he does on film, and also possess' a mean streak. The Argos are aging along the offensive line and Chungh could help them for the next 10 years.
Round 1, pick 4:
Montreal Alouettes:
Lemar Durant: WR, Simon Fraser
The Als wouldn't be able to pass on Durant if the NCAA star was still available when they're on the clock. Durant proved he was the most physically gifted receiver at the combine by leading all receivers with a 4.55 40-yard dash time, a 36" vertical jump and 26 reps on the bench press, a combine record for receivers. Durant looked inexperienced to all the grabbing and contact of the Canadian game during one-on-ones, however the CFL recently altered the "Illegal Contact" rule to the way it is in the NCAA and NFL, so the learning curve for Durant should be reduced. With two 30 year old national receivers and an aged international receiving corps to boot, Durant would bring some youth and potential to the Alouettes.
Round 1, pick 5:
BC Lions
Sean McEwen: C, Calgary
McEwen was a four-year starter at Calgary and proved he is a well-rounded centre at the combine. The former Dino won five out of his seven match-ups during one-on-ones and displayed good footwork throughout the drills. BC's current centre, Matt Norman, has been inconsistent since moving into the middle and would benefit from a position change back to guard if McEwen is ready to start at centre.
Round 1, pick 6:
Saskatchewan Roughriders
Daryl Waud: DT, Western
Waud didn't test very well, nor was he necessarily dominant during one-on-ones, but he still has the game-film that proves he is the best defensive player available in the draft class. During one-on-ones, Waud
did
show his ability to get off blocks using his hands and was probably the most explosive three-tech off the line, as shown by when he blew by Sean McEewen early in the drill before the Calgary centre was even out of his stance.
Round 1, pick 7:
Edmonton Eskimos
Jacob Ruby: tackle, Richmond
Ruby needed to have a good performance at the combine to prove to scouts he could play tackle at the professional level and, simply put, he did not. He faced a speed-rusher during one-on-ones four times, and was blown by on all four reps. Nonetheless, Ruby's 47 career starts at an NCAA school and great size at 6'7" and 315 pounds give him the credibility to remain a lock for the first round. The Eskimos would likely be drafting Ruby to play guard, where his large frame bests suits him.
Round 1, pick 8: Hamilton Tiger-Cats
Nic Demski: SB, Manitoba
Demski put up great testing numbers including a 4.56 40-yard dash time among other great times/tests and was good during one-on-ones. Not all of his routes allowed the four-time All-Canadian to demonstrate his entire skill-set, but he made the most of what he was given and hauled in 5 passes. Demski would be given time to develop in Hamilton behind Andy Fantuz and Spencer Watt and may even replace Fantuz if the CIS-legend shockingly leaves Hamilton during next year's free agency period.
Round 1, pick 9:
Calgary Stampeders
TeVaughn Campbell: CB, Regina
Campbell stole the show in Toronto after he set a new electronic combine record with a blazing 4.35 40-yard dash time, then followed that up with a great performance during one-on-ones. Campbell was a shutdown corner on Sunday, recording the lone interception of the day while only allowing a total of two completions overall. Campbell has good feet and is quick out of his breaks; 2 skills that are more important than ever after the league's latest rule changes that force defensive backs to be quicker and less physical. My only concern with Campbell is his open-field tackling ability.
Round two
Round 2, pick 1: Ottawa Redblacks
Chris Ackie: LB/DB, Wilfred Laurier
Very few players' draft stock's improved at the combine as much as Chris Ackie's did. Ackie, who is now legitimately challenging Waud (and now Tevaughn Campbell) for his status as the best defensive player available, tested extremely well and took reps at both linebacker and defensive back and excelled at both. At DB, Ackie only allowed two receptions despite often being matched up with the top receivers, and one of the catches occurred after Ackie jumped Mikhail Davidson's speed out but somehow missed the ball while trying to knock it down. Ackie didn't look out of place at linebacker either, effectively using a rip move against some of the running-backs in the pass-rushing drill. The Redblacks would love to possess a great 1-2 punch featuring Ackie and 2014 first round pick Antoine Pruneau at linebacker and safety.
Round 2, pick 2:
Winnipeg Blue Bombers
Addison Richards: WR, Regina
The Bombers will have struck gold if they passed on WR Lemar Durant in favour of an offensive lineman in round one only to land a different receiver that also has first round talent in Addison Richards in the second round. The Regina-native performed well at the combine and could come in and make an impact early in his career with the Blue Bombers, who are starving for Canadian talent at the receiver position.
Round 2, pick 3:
Toronto Argonauts
Maxx Forde: DE/DT, Idaho
At 6'3" and 271 pounds, Forde will likely play defensive tackle in the CFL. With a 4.78 40-yard dash, Forde should be a shifty force in the middle and will find success during pass-rushes. The Argos would be smart to draft and develop some Canadian defensive line talent after changing up their starting NAT-INT ratio in a trade for DE Ricky Foley.
Round 2, pick 4:
Montreal Alouettes
Brett Boyko: OT, UNLV
Boyko's NFL draft stock seems to be heading south after an elbow injury amongst other things, so there's a chance he ends up one-and-done in the NFL after bouncing around practice rosters. It worked out well for Alouettes the last time they drafted an NFL-bound Canadian lineman; 2011 third round pick Philip Blake recently signed with the club after a few years down south. The Alouettes' current starting offensive tackles, Jeff Perrett and Josh Bourke, are both in their thirties but are coming off great seasons for both of them, so the Als can afford to wait for Boyko.
Round 2, pick 5:
BC Lions
Shaquille Murray-Lawrence: RB, UNLV
Murray made a splash after clocking the fastest electronically-timed 40-yard dash in the CFL history with a 4.41, only to later have his brand new record smashed by Tevaughn Campbell's 4.35 time. Lawrence was productive down south with UNLV and ran for 552 rushing yards in 2014 with 9 touchdowns.
Round 2, pick 6:
Winnipeg Blue Bombers
Adam Konar: LB, Calgary
The Bombers will need some depth behind newly-signed National MLB Sam Hurl. Konar still, in my opinion, is the best linebacker available after a quiet combine. He racked up 40 tackles and an interception last season with the Dinos while still recovering from a torn ACL suffered in 2013. He hasn't played very many CIS games in his career, so the sky could be the limit for Konar, or, the lack of experience may hurt him.
Round 2, pick 7:
Edmonton Eskimos
Kwame Adjei: LB/DB, Mount Allison
Adjei didn't necessarily stand out at the combine, however I doubt that would be the case if there were tackling drills involved.
The Eskimos lost Chris Rwawakumba to the Lions in free agency and have plenty of uncertainty regarding their safeties. Adjei would also provide good depth behind Alonzo Lawrence at Sam Linebacker and could be a solid special teamer.
Round 2, pick 8:
Hamilton Tiger-Cats
Campbell Allison: G, Eastern Michigan
While playing both guard and tackle, Campbell and was very good during one-on-one's. He has great size at 6'6", 313 pounds and possess' quick feet for a lineman of that stature. Campbell didn't play very many games during his career with Eastern Michigan, but is worthy of a 2nd-round pick after a promising sophomore season and good combine performance.
Round 2, pick 9: Calgary Stampeders
Karl Lavoie: tackle, Laval
Lavoie's torn quad that forced him to miss the combine could hurt his draft stock as scout's surely would have liked to see how the Rouge-et-Or product would fare during one-on-one's with his underwhelming size. The tape tells the truth, so selecting Lavoie shouldn't be viewed as a risky pick by the Stamps.
Round three
Round 3, pick 1: Calgary Stampeders
Nick Shortill: LB, McMaster
The Stamps lost Canadian linebacker Keenan McDougall to Saskatchewan this off-season and will look to stock up on Canadian talent for special teams. Shortill possess' the speed and open-field tackling ability to become a special team's demon for years to come.
Round 3, pick 2: Hamilton Tiger-Cats
Byron Archambault: LB, Montreal
Archambault is described by many as a "big, throwback linebacker". In today's game, with big size must come good speed, which the strong-man lacks. Archambault may develop into a great run-stopping linebacker for the Stamps, or, could be a career depth player who's brightest moment came from his 41 bench press reps at the 2015 combine.
Round 3, pick 3: Toronto Argonauts
Brandon Tennant: DT, Laval
The Argos will have greatly boosted their defensive line talent this off-season if they draft Forde and Tennant to join Ricky Foley among the Argo D-line. Tennant was far from spectacular at the combine during one-on-ones, however I noticed almost none of his battles had a clear cut winner at the end of it; he never beat the opposing guard or centre clean, nor did they ever stop Tennant from moving the line of scrimmage. As a huge gap-plugging defensive tackle, that's all you can ask for.
Round 3, pick 4: Calgary Stampeders
Jake Harty: SB, Calgary
Calgary is the only city Jake Harty has ever known, and the Stamps love drafting hometown Dino players. Harty plays a similar game to that of Hamilton's Luke Tasker: they both make up for their lack of speed with a pair of sure-hands and good route-running ability. The Stamps lost Brad Sinopoli to Ottawa this off-season and will hope Harty can push another former-Dino in Anthony Parker to take the next step.
Round 3, pick 5: BC Lions
Ron Omara: LB/DE, St. Francis Xavier
The Lions will need to address their lack of Canadian depth on the defensive side of the ball at one point during draft. Omara attended an NFL regional scouting combine as well as the CFL combine, and made a name for himself in Toronto after participating in drills as a linebacker and defensive end. Omara, who clocked a 4.71 40-yard dash, will likely play linebacker in the professional ranks.
Round 3, pick 6: Hamilton Tiger Cats
James Bodanis: G, Michigan State
Bodanis could turn out to be a 3rd round steal for the Ti-Cats. The former-Spartan had a great performance during one-on-ones and likely would have had a much higher draft stock had he spent more than one year at Michigan State.
Round 3, pick 7: Edmonton Eskimos
Ettore Lattanzio: DT, Ottawa
Despite his lack of size, Ettore Lattanzio has always found a way to get it done. Lattanzio won the J.P. Metras trophy in 2014, awarded to the best down lineman in the nation and continued to find success at the combine after a good showing during one-on-ones.
Round 3, pick 8: Saskatchewan Roughriders
Melvin Abankwah: SB, St. Mary's
Nicknamed "Mr. Wiggle", Abankwah was easily the best receiver during one-on-ones. The St. Mary's product consistently burned defenders down-field and showed great route-running skills. Abankwah was relatively quiet at St. Mary's, but is surely on many teams' radar after a great combine performance.
Round 3, pick 9: Calgary Stampeders
Tyler Varga: RB, Yale
Varga may have a long career as a special-teamer in the NFL after a great senior bowl performance. If he does ever come north, he could be an even better version of Jon Cornish.